Discover more from Kitchen Projects
Taking the Recipe Development process from behind the scenes directly to you. Part toolkit, part love letter to food, this is a deep dive into dessert and pastries.
Over 36,000 subscribers
So, DON'T PANIC, i'm not saying summer is over (let's be honest, September always gives us the best chance of beautiful weather) but the last bank holiday in August does feel like a bit of a last hurrah for summer fruit for me. 
I've always thought the selection at a greengrocers is akin the pattern of the moon; I love watching the selection of tomatoes and stone fruit expand and wane over the seasons, watching them scramble for more boxes and plinths in the peak of July as they try to accommodate the onslaught of nectarine variations and the coming and going of apricots.
Before I left on my trip (I'm in Minnesota until early September visiting family and doing some very exciting KP research, as ever), the offering was still relatively abundant but a shadow of its midsummer apex. I feel sad for a moment, but reassured that where peaches once were, multitudes of apples will live, and where mangoes were piled, quinces will tower. I feel relief and joy in equal measures.
Before we bid adieu to these soft fruits in exchange for their hardier cool weather counterparts, here's ten of the best things you should be reading and making this weekend (especially since there's an extra day off here in the UK) to make the most of it.
Sour cherry and Plum pies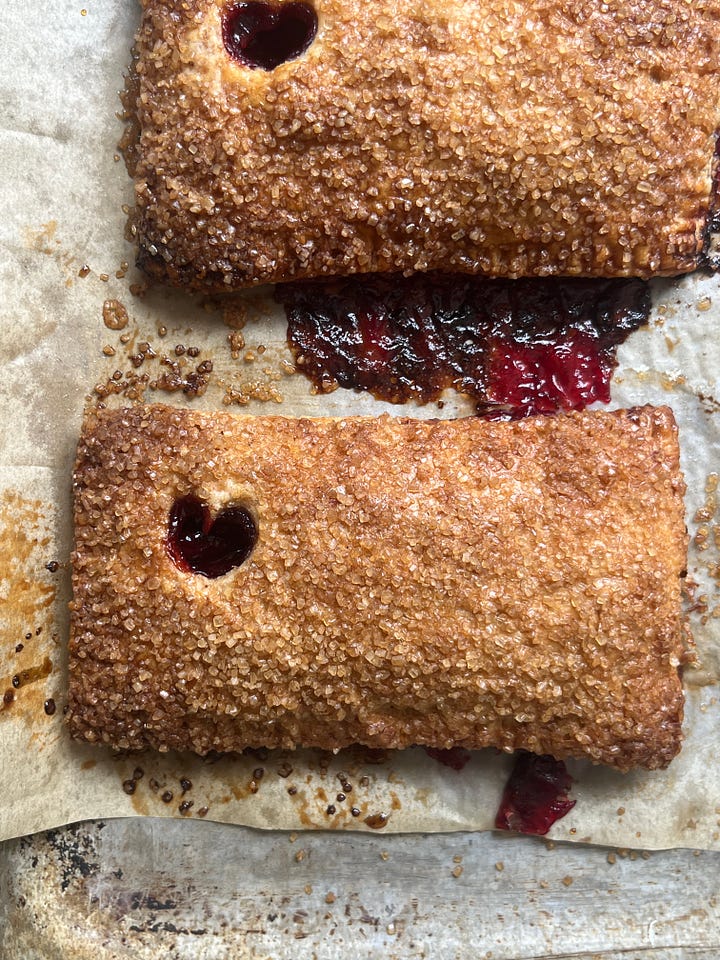 The morning before leaving for my trip to the US, I walked past the greengrocers and spotted SOUR CHERRIES. FRESH sour cherries. Of course, I had to get them and turn them into emergency mini pies before I headed to the US. They freeze really well & I was able to take a bunch to the airport with me for snacks. Click here to read it!
Anything flaky fruit tart
This newsletter has a secret power: It's french grandma approved. Earlier this year I was lucky enough to visit Monique's home in the Loire Valley. Join me in her kitchen as she shows us how to make perfectly crisp and flaky fruit tarts no matter what the season. Click here to make it
Victoria Sponge Cake
There's no beating a classic victoria sponge cake. Here I've paired it with strawberries but any manner of fruit would be happy nestled up against the buttery cake. This newsletter goes deep into what makes cake… cake! And I'm fairly confident you'll never want to make another butter cake again after trying this crumb. Click here to make it. 
What about a jam?
Panic buying fruits? I get it. Same. Want to make a preserve and not exactly sure where to begin? You should really let kitchen projects columnist Camilla Wynne take you through her Preserving 101. She's got your back!  Click here to read it.
Stone fruit frangipane tart
Everyone needs a great frangipane tart in their life and i'm pretty confident that this one will be your go to. Thinly sliced plums make a stunning, simple finish that can be glazed or left plain. Serve with a big dollop of cream or enjoy on its own, either way you'll be putting plums where they deserve to be: In the spotlight. Click here to make it
Peachy choux
Sometimes you just want to make something a little fancy. In this newsletter I get to the bottom of the whole peaches v nectarines thing and show you how to make a STUNNING peachy choux filled with a mousse that'll lift you to the highest levels of stone fruit joy. Click here to make it!
Custard panna cotta
Truly the best of both worlds - setting custard with a little gelatin to take it to wobble perfection. All the joy of a custard tart with about 5% of the effort. Seen here with roasted strawbs but a worthy accompaniment to any number of fruits. Click here to read it.
Blueberry corn cake
Ever wondered what the difference between polenta, cornmeal, corn semolina and every other god forsaken ground corn bagged produc out there, this is the newsletter for you. Blueberries and corn are total besties, and this low profiled swirl cake is perfect for tea time. Click here to read it
Ultimate pineapple upside down cake
This is one of my favourite guest posts ever: A pineapple upside down cake by the brilliant Tarunima Sinha aka my little cake tin. She is an absolute superstar. Click here to make it!
Poached fruit with magic sauce
Poaching fruit is a great way to send it off, especially when you reduce the liquid into this caramel adjacent, wine-y dream sauce that you & your guests will be licking from the bowl. Trust me. There will be no shame. Click here to make it
Easy Thin n Crispy "strecci" bread
This super simple ultra thin and crispy bread dough is a perfect park /friends over for drinks snack. I LOVE this version with peaches and basil but you can customise it til your heart is content. I particularly love the version with tapenade, recipe provided by my brilliant friend Janine, head baker at Toklas Bakery. Click here to make it.
---
Alright! That's it for now. Have a wonderful weekend and see you next week!