Discover more from Kitchen Projects
Taking the Recipe Development process from behind the scenes directly to you. Part toolkit, part love letter to food, this is a deep dive into dessert and pastries.
Over 37,000 subscribers
Kitchen Project #114: A Lesson In Cookies
Ft. Ultimate Peanut Butter Cookies + my dispatch from the Minnesota State Fair!
Hello,
Welcome to today's edition of Kitchen Projects, my recipe development journal. Thank you so much for being here!
Today, we're taking a little trip stateside as I report back from the Midwest, including tales from the inimitable Minnesota State Fair, from cookies to cheesecake to pickles to 90lbs of butter carved into the likeness of beauty queens. Just normal stuff, you know. 
I'm thrilled to be sharing a little deep dive into an American classic, Peanut Butter Chocolate Chip Cookies, including research into the role of raising agents. And over on KP+, I'm giving you a real taste of the fair with my take on the very demure recipe, which is deep-fried cheesecake. Sorry, not sorry. 
What's KP+? Well, it's the level-up version of this newsletter. By joining KP+, you will support the writing and research that goes into the newsletter (including the commissioning - and fair payment - of all the writers), join a growing community, access extra content (inc., the entire archive) and more. Subscribing is easy and only costs £5 per month. Why not give it a go? Come and join the gang!
Love,
Nicola
A Dose of Kitchen Tourism
Food is an easy way to scratch the surface of a culture when you're travelling. I recently returned from a trip to the U.S. Midwest, and although you might expect me to have fewer eating stories than, letsay, my trip to Liguria or the French countryside, I have a lot to report.
My fiance grew up in a big family in Minnesota, so I'm fortunate to join him on a trip home at least once a year. Before meeting him, I had spent a good chunk of time on both the East and West Coasts of the U.S., but like many people, I'd never really considered visiting the vast middle. To be honest, I'm not sure I'd ever have made it to the land of 10,000 lakes had it not been for love.
If you're unfamiliar with Minnesota, let me give you a quick rundown (one that I hope avoids being offensively simplified for anyone who knows the state well): Minnesota is a northern state in the U.S. that borders Canada. It has hot summers and properly cold winters with an average of 3ft of snowfall in the city. It's known for its lakes (WAY more than the 10,000 the bumper stickers tell you) and Prince (a proud Minneapolis native and resident), the name 'Minnesota' is derived from the Sioux words "minni" and "sotah" meaning "water" and "cloudy" respectively. It was named after the Minnesota River that runs through the state.
Minnesota is also home to the more famous Mississippi River, which actually begins in Northern Minnesota. It divides the cities of Minneapolis and St Paul - these two are collectively known as the 'Twin Cities' and are the most cities populous in the state. Minneapolis thrived in the 19th and 20th centuries, with flour milling companies General Mills and Pillsbury utilising the power of the natural waterfall in the Mississippi River.
Before the mass industrialisation of the land, it was solely occupied by the Dakota Sioux who named the land 'Bde Óta Othúŋwe ('Many Lakes Town')'. Despite treaties that were supposed to protect the indigenous population, they were eventually imprisoned and then exiled from the land. Lately, there has been a drive in the city to pay homage to this history - lakes renamed by the colonialists have been reverted back to their native names. The city is home to "Owamni", a restaurant led by Chef Sean Sherman, aka 'The Sioux Chef', whose mission is to revitalise Native cuisine and only use ingredients native to the surrounding area. It's pretty much impossible to get a table at Owamni, which I think is a sign of enthusiastic support from the community - I managed to go a few years ago on a random Wednesday by walking in for dinner at 3.45pm. And it was fantastic.
While I'll have to do an Owamni special on one of my trips back, this most recent trip was definitely not centred on Native cuisine. As well as a visit to an excellent Hmong restaurant (Minneapolis-St. Paul has the biggest urban population of Hmong people in the world), I found myself eating the entire spectrum of 'American' cuisine, from modern classics at Spoon & Stable to so many sides of roadside corn.
I was also lucky enough to visit the NordicWare factory (a very special bundt edition of this newsletter is coming up this autumn - the bundt cake was invented in Minneapolis!!!), but one food event eclipses them all. Not in the flavour department, but in the sheer scale and intensity of the event: The Minnesota State Fair.
All the fun at the fair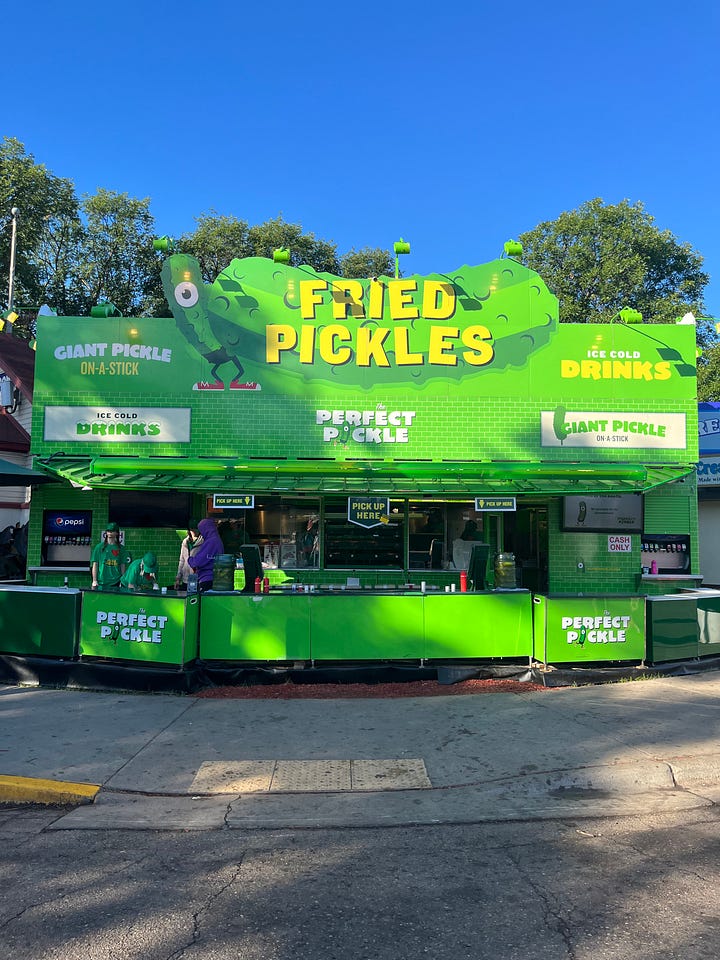 The Minnesota State Fair is a yearly event that attracts some 2 million people through its multicoloured gates and boasts the largest daily attendance numbers. Its total attendance numbers are only pipped to the post by the Texas State Fair (I mean, they say everything is bigger in Texas, right?), but it's a hugely popular event affectionately named "The Great Minnesota Get-Together."
Before I went to the fair, I had no idea what it was. Not really. I mean, a fair is a fair, right? The kind of thing that packs up and down on some non-descript green strip by an A road? Not in the U.S.A. 
State fairs are annual gatherings that take place in each state. They were started in the 19th Century to promote state-wide livestock and agricultural traditions. This is still a big part of the fair today, with events like sheep judging, milking demonstrations and tractor displays. The fair is filled with prize-winning crafts and produce adorned with blue ribbons, from crocheted blankets to apple pies. To display at the state fair, you first have to win your category at a local county fair, and only there can you be declared best in the state.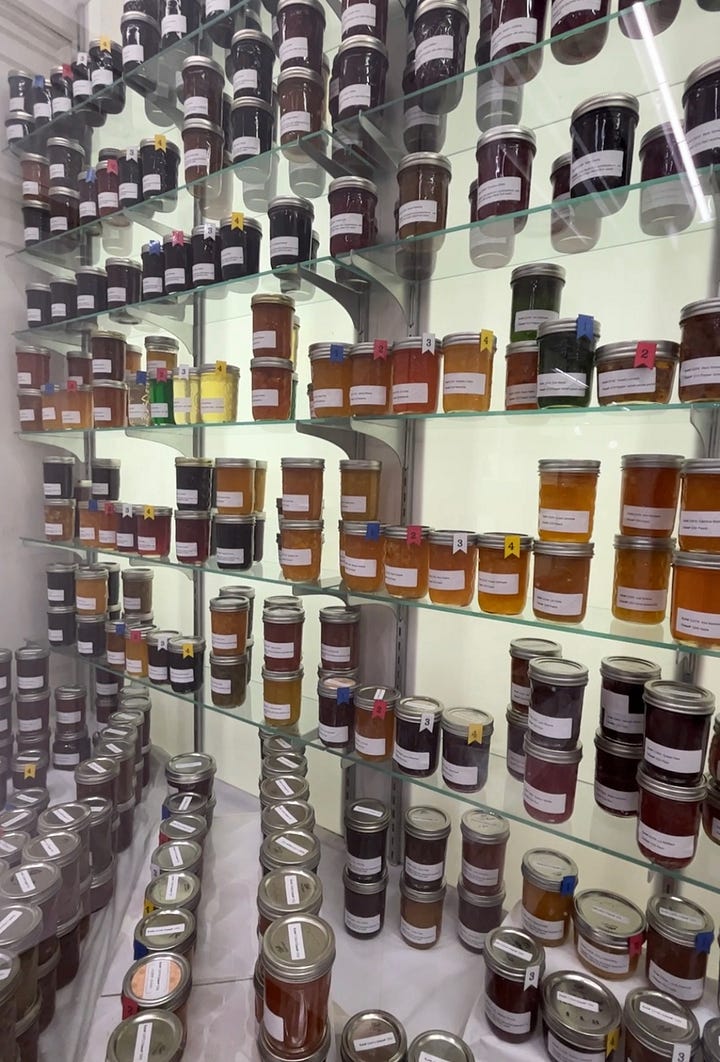 The butter sculpting event is one of the more curious exhibits at the state fair. While butter sculpting has always been in the DNA of the fair, in 1964, a new tradition was born: Each year, the Midwest Dairy Association selects a new 'Princess Kay of The Milky Way', a pageant queen who is tasked with promoting the Dairy Industry across the state for the following year. Of 100 entrants, just 10 finalists are chosen, and only one goes to win the crown. But don't feel too sorry for the other finalists - all ten princesses are honoured at the state fair when their heads are carved out of a 40kg/90lb block of butter. Live. In a rotating, refrigerated container.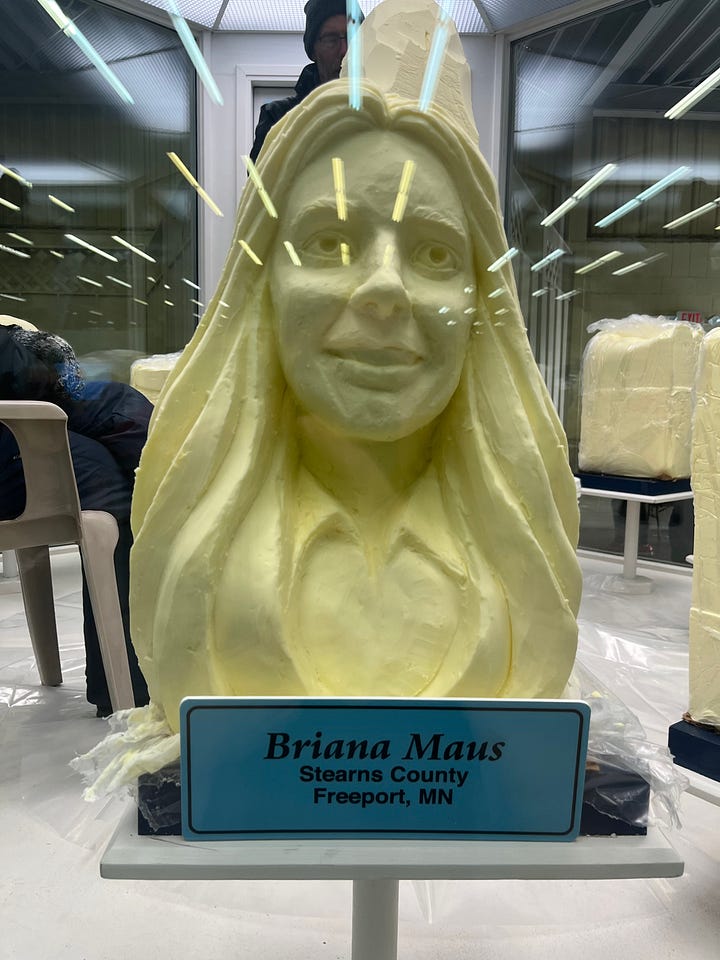 And as much as people do crowd to see the blue-ribbon llama, the prize-winning jam displays, the tractor that makes ice cream or marvel at artworks made of seeds, the unique scarecrow displays or the live birth of piglets (!!!), there is one huge attraction that leaves no prisoners: The food.
State Fair Food is in its own category. It's designed to delight, enthral and terrify all at once - the 'new foods' are a massive draw for the fair and an attraction in its own right. You would not believe just how many things can be deep fried and served to you 'on a stick': From the well-known corndog to the utterly insane spaghetti and meatballs-on-a-stick to unbelievably giant pickles, it's truly the Wild West of modern American cuisine. There are some legitimately incredible offerings - outstanding softserve, grilled sweetcorn, dipped in big buckets of melted butter, is the best I've ever tried, and fried pickles are a 10/10 for me - along with some more novelty, slightly anxiety-inducing offerings - a bacon-wrapped waffle dog (idk what that is either).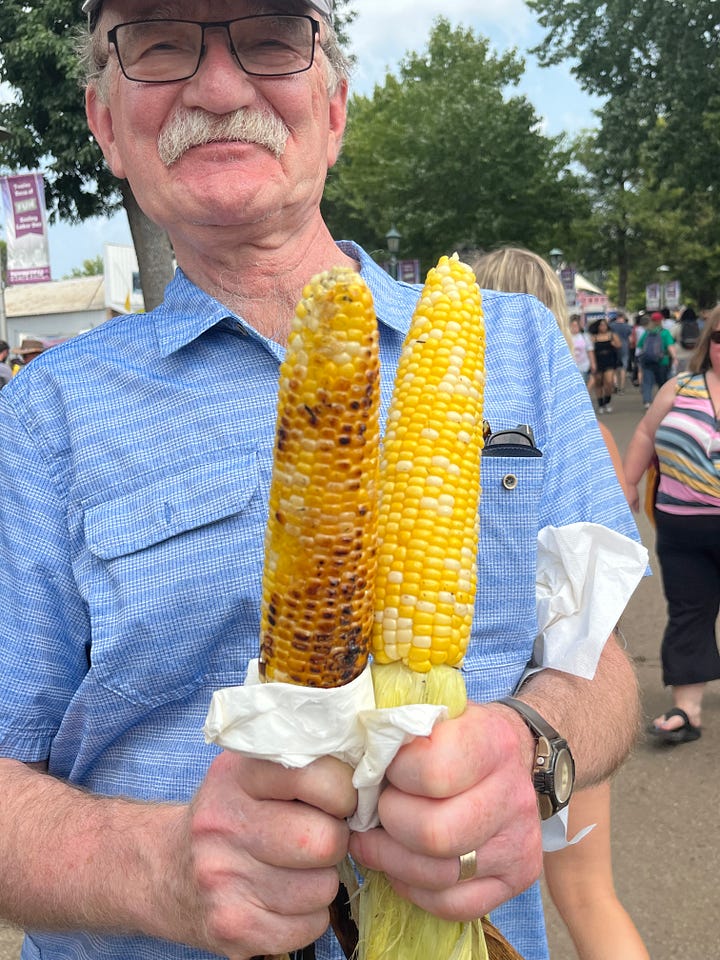 Many of these food stands are doing insanely high volumes - the most successful kiosk is 'Sweet Martha's Cookie Jar', which has several permanent buildings on site. In 2022, this cookie bucket specialist took $4.5 million in sales in just two weeks. If you're a state fair pro, like I am now, you know the move is to pair the cookie bucket with the $2 all-you-can-drink milk (which comes in 'chocolate' or 'white' flavour btw the latter description I'll never ever get over). Martha is (distantly) tailed by corndog hawkers' Pronto Pups' who take $ 2 million in sales. And that all-you-can-drink milk stand I just mentioned? They take $ 1.2 million - I wonder if they thank Martha's Cookies for that?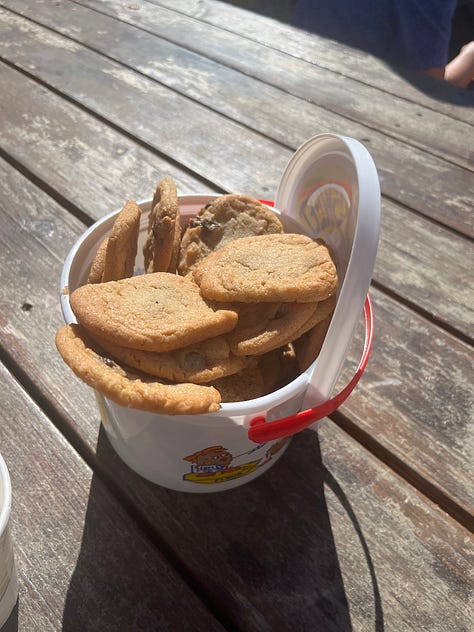 The new foods are heavily promoted and sought out at the fair - this year, there was an 'Amish doughnut' stand with hour-long, uncovered queues in the 33c heat. In 2022, a white-sauce-based pickle pizza was an absolute smash hit, leading to an influx of pickle dishes for 2023. They were everywhere, from pickle lemonade to pickle doughnuts to pickle cheese-curd tacos. I was not mad about it.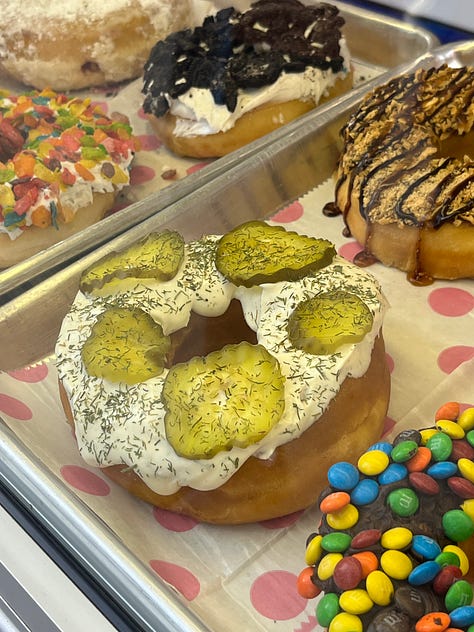 Since I know there are probably relatively few people who read this newsletter that will ever make it to the state fair, I wanted to make a recipe for you to give you a slice of the action. Part of the reason I love travelling is to try new things and figure out the recipe to share with you at home - tourism from your own kitchen. While there are a few things that I would attempt to recreate from the state fair, there was one dish that I found 1) surprisingly delicious and 2) shockingly light: The deep-fried cheesecake.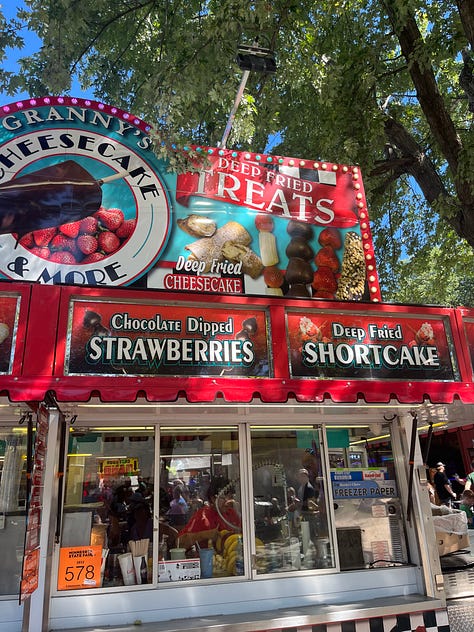 Okay, ok, bear with me - I tried two versions of DFC in 2022 and 2023; in 2022, the deep-fried cheesecake was a log of cheesecake wrapped in a wonton/filo pastry wrapper. It was pretty good. In 2023, we got to try something that I properly rated. To my surprise, the 'deep fried cheesecake curds' - little blobs of cheesecake dipped in batter and then fried - were a major win. I couldn't believe it myself, but I was honestly impressed.
This week's recipes
For this week's recipes, here on the main newsletter we'll do an homage to the baking mascot of the USA with an outstanding peanut butter cookie and a look into raising agents. And over on KP+, we're having a lot of fun because I gave the aforementioned deep fried cheesecake a go at home, and… it's… shockingly outstanding. I'll take you through the process - you get the added benefit of laughing the entire time whilst making it because it is really that ridiculous.  
Justice for cookies
One thing that the U.S. seems to find SO easy that Europe still hasn't quite gotten the hang of is cookies. If I had to choose a representative for the baking Olympics from each country, it would be a toss-up between cookies and fruit pies in the U.S. If I really had to choose, I think I'd send the cookie out to bring home the gold medal. You can't argue with Martha's $4.5 million in sales at the Minnesota State Fair.
Outside the fair's walls, every single bakery we went into had a pretty good-looking cookie: A bit fudgy, a bit chewy, a bit crispy. Very, very hard to resist. At our local bakery, I picked up a chocolate chip cookie (for me) and a peanut butter chocolate chip cookie (for my fiance). Of course, relationships are about *sharing*. So let me tell you my surprise when I tucked into the PB version. It was elite? What?!
I usually avoid peanut butter-flavoured things because they often bonk you over the head. For me, peanut butter and truffle are in the same category, both blessed with an innate scene-stealing flavour that can overwhelm a recipe. But not this time - the peanut butter offered a rich hum that backed up the ingredients and added a slightly sticky chew that was so fun to eat. I needed to recreate it.
To get started, I looked at the ratios of my chewy crispy cookie and worked backwards - the sugar would need to reduce and the flour increase, but it seemed like a good place to start. I crunched the numbers on my Excel spreadsheet and came up with a formula that blended all the things I love about cookies. The final recipe still has a relatively high proportion of sugar (which you can use dark brown OR light brown depending what flavour you like - dark brown is more molasses-y) in relation to the other ingredients, which helps chewiness, gooeyness and spread! But there was one question that remained…
Let's talk about raising agents
This week's recipe wasn't supposed to be a deep dive into the world of cookies, but 12 batches later, I have things to report. In an earlier edition of this newsletter that was all about the chocolate chip cookie, I pretty much breezed past raising agents. To quote myself: "Although you can play around with the raising agents, I found this unnecessary. I stick to just baking soda in my cookies - this gets you the best results from browning, and since there's enough acidity from the brown sugar, you get enough of a rise reaction."
While this is correct and true to the recipes I published, reading it back is like unfinished business. It's not a Sherlock-level cliffhanger, I'll give you that. But I don't like leaving any loose ends here in the newsletter. I mean, if baking soda really is the best choice for cookies, why do SO many recipes also call for baking powder? 
The 'original' chocolate chip cookie recipe, aka The Toll House Cookie, uses only baking soda, but more modern recipes like the famous Jacques Torres cookie use a blend of the two. What is going on?
When it comes to baking, everything matters. Even though that might sound intimidating on first read, it means you are 100% in control! Which is a very, very good thing. At an event a few weeks ago, someone asked me whether it was possible to bake intuitively - I said, yes, of course! Provided you don't have a strong opinion about the final result. That being said, baking is not so different from cooking. You intuitively know that adding double the amount of cheese to a sauce will make it thicker, fattier and potentially unstable, or doubling the chilli powder might make something very spicy. The same goes for butter, flour or eggs in a cake - double the fat in a cake, and you know that the final product will probably be greasier, richer and heavier than if you left the ratio alone.
But things become a little more obtuse when we start discussing the role of raising agents. A pinch here, a quarter of a teaspoon there. While I'm willing to be relatively blasé about 10g of sugar here and there, I never mess around with the raising agents. These things are potent. 
Single vs. Double Action
There are several ways things rise in baking, but one of the tried and tested ways is via raising agents. These lift your bakes via a chemical reaction that produces gas (CO2). As the CO2 is released, it is trapped by the hardening structures of flour (starch and gluten) and egg. There are two main raising agents: Single and Double Action.
Bicarbonate of soda is a 'single action' raising agent, and it begins to react as soon as it is hydrated and encounters an acid. This means you must add something acidic to your recipe to kickstart it. It does not need heat to react.
Baking powder is a 'double action' raising agent. It's a relatively new invention by the chemist (and romantic), appearing on the scene in 1843. To read more of his story, click here. Baking powder combines an alkaline substance (like bicarbonate of soda) and an acidic substance (like cream of tartar). It is known as a 'double action' raising agent because it reacts twice: the initial reaction is when you add an acidic liquid (just like baking soda) and the second reaction comes when it is heated. 
Other considerations
Baking soda is apparently more potent, some 3 or 4 times stronger, but only reacts once. It is also a strong alkaline, which will increase the pH of your bakes, resulting in stronger browning (Maillard) reactions.
These properties can radically impact the final result of the bake - a cookie is a great place to witness this in action. 
Raising agents in action: Cookies
To show raising agents' impact on cookies, I mixed up several batches of today's recipe. One with all Bicarb, one with 50/50 bicarb and baking powder, one with all baking powder. The difference is pretty dramatic:
The cookies with bicarb are wider and flatter than those with baking powder - this results in more surface area, which results in a chewier cookie with more crust. 
So, WHY do they look so different? The answer lies in what happens when you bake. Let's run through it:
Cookie dough goes into the oven, and the temperature rises. The fat melts and it begins to spread. The sugar is dissolved in the more fluid batter and also encourages spread. The water in the fat is released and the ingredients are further hydrated - this gives raising agents access to the acidic ingredients, like the brown sugar.

The raising agents are activated. Gases are released, and the dough expands and rises.

As the temperature rises, the starch and gluten in flour and the proteins in the egg harden, setting the structure and a crust forms. 

When removed from the oven, the cookie settles and falls. This is because the ratio of ingredients favours' tenderisers' rather than 'tougheners', aka things that provide structure. Cookies are relatively high in sugar - which does not add structure or harden (unless heated to caramel, which doesn't happen in the case of cookies), which means they can remain gooey.
Using this as a basic timeline, we can plug in what happens when you use different raising agents. Bicarbonate of Soda, which reacts once and is agnostic of temperature, will initially cause the dough to rise but will not continue rising through the baking process. This means the cookies will spread more since there is to continue nothing lifting it as the temp rises and structure sets.
Baking Powder will have that initial lift, but will also react a second time as the temperature rises; This coincides with the setting of the starch and protein - the lift is captured, meaning a taller, less-spready cookie.
A combination of both lands us somewhere in the middle - it spreads out more than one just made with baking powder, but also has more height; It also has a uniquely fractured and cracked top; This is a result of a later reaction of the baking powder which tries to force the gooey middles out an already expanded cookie and semi set crust.
How much to use?
Most recipes use between 1%-2% raising agents. This is a baker's percentage, which means the weight of an ingredient in proportion to the flour and a useful way of looking at ingredients. I mixed up a few batches of the dough and varied the quantity of raising agents in each batch:
The more the raising agent, the more dramatic the cookie's spread and final craggy look. Especially when baking powder is involved. This is because the raising agent continues to react and rise once the crust is already set - it busts through the set crust. On a blind taste test, it was hard to tell the difference, but we ate with our eyes! I'm still team bicarb only and just 1%, because I favour a slightly spreadier, chewier but gooey cookie. But this is a handy way for you to adjust your bakes with very little effort, depending on what you want to achieve!
So, what is the rule of thumb?
For a spreadier, chewier cookie, go for bicarb; For the chewiest flattest cookie, 2% bicarb is better, but for a well balanced still fudgy cookie go for 1%. If you want a more craggy cookie, a blend of bicarbonate of soda and baking powder will suit you - 2% has the most dramatic look. For a rounder, taller cookie, use baking powder only.
A note on temps
The recipe development and cookie Goddess Erin from Cloudy Kitchen made a post earlier this week about the impact of oven temperatures on the final shape of baked goods and cookies in particular; While I eagerly await her post on this subject, it's worth mentioning here that cookies baked on a lower temp will spread more - this is because it has taken longer for the dough to reach a temperature that the proteins and starches to harden which set the final structure, meaning it's had a longer time to melt and stay in that gooey phase before things firm up. Make sure to watch out on her website for her official write up!
A note on resting
While this recipe can be baked immediately after mixing, if you want to ball & rest your cookies, go ahead. There is improved browning and slightly less spread in the cookies rested for 24h.
This is due to a few factors - the dough loses some water which concentrates the other ingredients, and the fat resolidifies meaning when it goes into the oven, it takes longer to reach melting point while the cookie's surface heats at the same speed. Since the 'boundaries' of the cookie have been set by the hardening flour starches, proteins and egg proteins, so when the fat melts it's comparatively contained. I think this recipe bakes well immediately; Even if the butter is pretty warm, it shouldn't stop you from baking them since this recipe is relatively low in butter. Sugar does melt but not at the speed of fat nor with the relatively indirect heat of an oven!
A note on Peanut Butter
You cannot replace peanut butter 1:1 for butter - it's only 50% fat and has so much bulk that it doesn't melt and behave like your average fat. To make the most of its flavour, texture and bulk, I've increased the eggs slightly and the relative fat to 70%. If you make a cookie with 70% butter, it spreads a lot (see below) but the added bulk of peanuts prevents this from going all over the place in the oven. This is a subtly peanut buttery recipe, so if you want to increase the peanut factor, I'd suggest adding 40-50g Salted roasted peanuts into your mixture or rolling the cookies in chopped peanuts before baking.
You can also make this recipe WITHOUT peanut butter - just omit it! This recipe is a workhorse, and it bakes up a treat.
Alright, let's make it!
Peanut Butter Chocolate Chip Cookies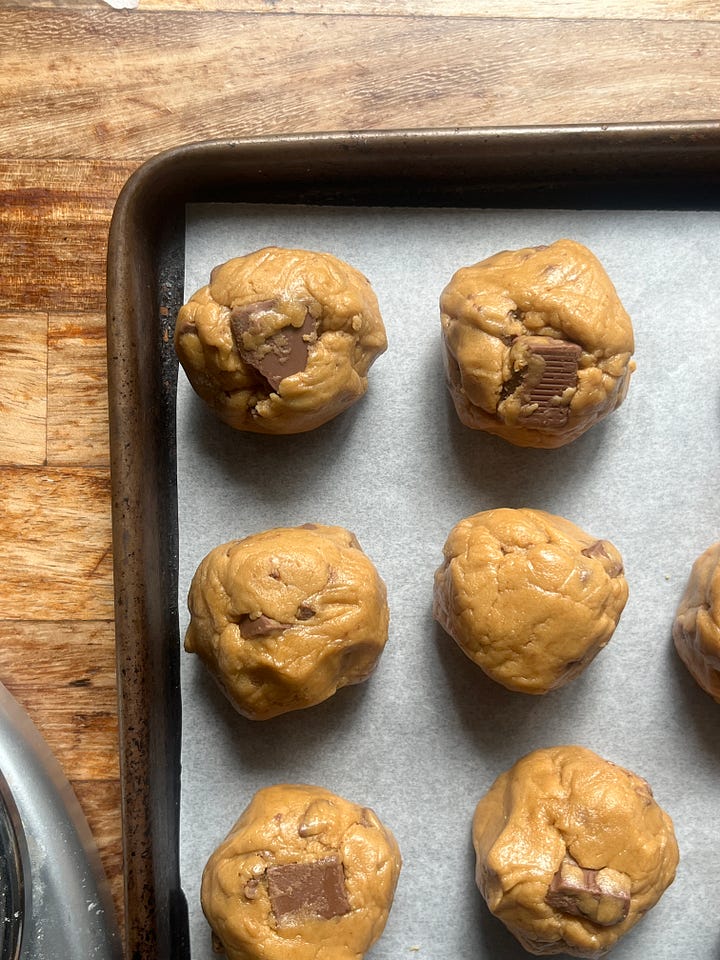 Makes 9-10 cookies
90g Butter, soft

65g Peanut Butter (I use manilife dark roast smooth)

160g Light Brown Sugar (also can use Dark brown for more molasses flavour, or a blend of the two)

65g Caster sugar

55g Egg (about one)

180g Plain Flour

2g Baking Soda (just under ½ a tsp if you don't have a sensitive scale)*

½ tsp Flaky Salt 

115g Chocolate (Milk or Dark - I like milk)

Optional: 40-50g Roasted Peanuts and extra flaky salt
*For a more spready cookie, you can increase this slightly. Or for a more puffy cracked cookie, do half baking soda and half baking powder. Check the main body of this newsletter to see the impacts. YOU DO YOU!!!!
For cookies without peanut butter, just omit the peanut butter - you don't need to replace the fat with anything - this dough is a workhorse!
Method
Preheat oven to 165c fan.

Mix together the peanut butter, butter and sugars until well combined but not creamed, about 1 minute. Add in the egg and mix until smooth - scrape down the sides of the bowl to make sure it is all incorporated.

Mix the flour and baking soda, then stir into your mixture until a smooth dough forms.

Chop your chocolate into irregular-sized pieces - I like a mixture of 1-2cm. Keep some larger pieces aside to press into the top of each cookie. Mix the rest into the dough and distribute as evenly as possible. If using extra peanuts, add now.

Form your cookies into 70g balls, then add a larger piece of chocolate on top for a nice fudgy splodge on top.

Place onto a baking tray - I can fit six per tray - then place into the oven and bake for 12-14 minutes. Our ovens are all different, so if yours don't look cooked enough, keep baking for 2 minutes +; You can't really overcook these, so trust your instincts! You could also try baking one on its own and figuring out the 'perfect' bake for you before baking the whole bunch. Mine are perfect at 12 minutes.

Remove from the oven and leave to cool for at least 10 minutes - the cookies will deflate. Sprinkle with extra salt, if desired.

Cookies keep well at room temp for 2 days in an airtight container.

Notes: Cookies can also be made ahead of time then baked from the fridge and may need to be baked for 1 minute longer. You can bake from the freezer too, just add 2 minutes further onto the baking time.